In situations where the MICROCON® EX-HE (horizontal) is not applicable we have developed an alternate "vertical exhaust" version of the same unit. This would include applications where there is no access for a window exhaust or the room is not on an outside wall to directly exhaust air. Also, when above the ceiling space is restricted or space limitations dictate a wall mounted unit near the ceiling exhaust or return duct.

The MICROCON EX-VE is identical in function as the horizontal unit and can also be provided with UV germicidal irradiation. The unit mounts easily to the wall and connection to its 6" x 9.5" rectangular duct is simple. The filtered air then can be directed to any above the ceiling exhaust ducts or to the return air duct as directed by CDC.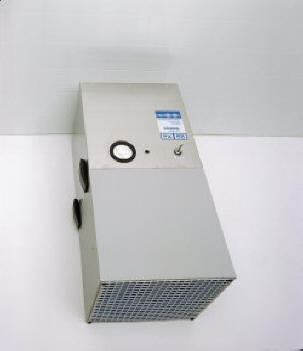 MICROCON EX-BB-VE with ceiling mounted exhaust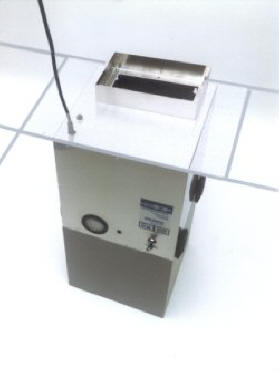 MICROCON® EX-BB-VE as viewed from above ceiling
The MICROCON® EX-VE has various options for placement depending upon the exhaust orientation requirement. The exhaust duct can be positioned on the top of the unit for easy attachment to ceiling exhaust ducts or behind the unit for wall mounted thru-the-wall exhaust.

The MICROCON® EX-VE complies with CDC guidelines. It contains its own pressure differential gauge, keyed high/low operation switch, modular design and all stainless steel construction. Germicidal UV option would include an electronic hour meter and security latches
The MICROCON® EX-VE is designed for years of continuous trouble-free operation.